MVP Training
MVP Training is a training facility for both athletes, and non-athletes alike.  MVP is an acronym: M stands for McLarty, V stands for Vital, and the P stands for Performance.
McLarty
Well, that's me, Danny McLarty.  At MVP Training, my focus is on the needs and goals of each member.  Due to the fact that everyone has a different injury history, training history, and different needs to meet their specific goals, each and every member gets a customized training program.  No cookie-cutter programs here!  The customized training programs give every member the best chance to reach their goals in a safe, timely manner.
Vital
Vital = "having remarkable energy, liveliness, or force of personality."  Adopting a lifestyle that is filled with hard work in the weight room and healthy eating, not only makes the body look and perform better, it also makes you feel better!  Consistent training can greatly increase the amount of energy you have, making life much more enjoyable.
Performance
I don't care if you are a college athlete or someone that is looking to workout for the first time in your entire life… a HUGE component of reaching your goals is looking to increase and better your Performance. If in 6 months from now, you are using the same weights that you are today, your body will not change.  If in 6 months from now, your cardio work is being performed at the same intensity that it is today, your body will not change.  Your body is stubborn and does NOT want to change, you must work hard and make it change!  Continually performing at a higher level, gives you the best chance to reach your health and physique goals.
MVP Training

-

that's what we're all about!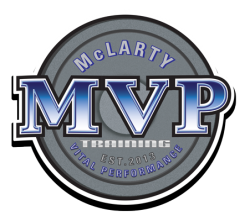 MVP Training is located at 9135 North 2nd Street in Roscoe, Illinois (Unit #200/300).
If you are interested in changing your life, contact Danny HERE to set up a free consultation.