The Steph Curry Drill
My favorite player in the NBA is Steph Curry.  Well, it's close between him and D. Rose… but I haven't seen Rose play in so long I can't remember his game.

 Hopefully that changes real soon!
Anyway, when I saw him play in the NCAA Tourney while at Davidson a number of years ago, I couldn't believe how easily he could get his shot off both off the catch and off the dribble… especially off the dribble.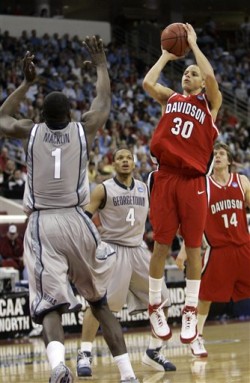 And then I lived in the Bay area for number of years, and he just so-happened to get drafted by the Golden State Warriors.  So I got to see the Steph Curry show first-hand.
As I elaborate in the video below, I've never seen ANYONE get the ball from the last dribble up into his shooting pocket and out of his hands as quickly as he does…
And then some of the players that train with me at my gym…
I can't wait to see how much quicker with the ball the younger players in the above video get in the years to come.  Assuming they continue to work on it… and they better!

So there's the Steph Curry drill for you hoopers out there.  Add it to the drills you perform to help you get your shot off quicker and with a more effective result.  Remember to work hard AND work smart (get a lot of reps in before shooting).