An Interview with Jen Comas Keck: Girl Gone Strong
I have a GREAT interview for you today.  I tracked down Jen Comas Keck, and not surprisingly, she delivered in a big way. Jen is a great inspiration to all the females out there (and to many males as well)!  Jen puts a big emphasis on weight training, which has been a key factor in achieving her outstanding physique.  She proves that females can lift hard and heavy, and still look feminine and beautiful.  With that said, lets get to it…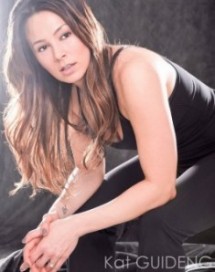 1)   Jen, what got you involved with fitness?
I was insanely lazy when I was a teenager. I was a book worm and all I wanted to do was read and eat junk food. I despised the idea of doing anything physically active. While I had nearly straight A's in every class, I failed gym class not once, but twice! I started packing on the pounds and when I was 17 years old somebody that I was very close to looked me in the eyes one day and said, "Ya know, you're getting kinda fat." I was completely devastated and cried my eyes out. The next day I begged my mom to help me get a membership to the gym, to which she obliged. I didn't have a clue as to where I should begin, so I started taking aerobics classes. I was intimidated by the people in the weight room, so I'd go back to the gym around 8 or 9pm when nobody was there and I'd mess around with the machines and the weights. I initially fell in love with group fitness classes, so much so that I started instructing. I taught every class you could ever think of while living in Las Vegas, up to 13 classes per week, and had the time of my life! I decided I also wanted to work with people individually and got my personal trainer certification from NASM and started training clients, which I also loved. I've always been eager to challenge myself which led me to my first Figure competition and that is when I fell in love with strength training.
2)   What are some of the early training mistakes that you made?
The biggest mistake I made was doing way too much cardio, thinking it would melt fat off of my body. I was cranking out around 5 hours of cardio a day for an entire year while I was teaching classes, and I think I lost a whopping total of 2 pounds!
3)   And how did you modify your training to "turn things around" with your physique?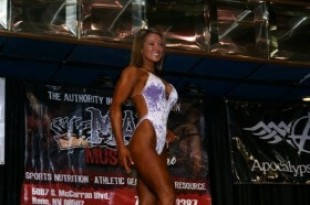 Late 2008 is when I did my first Figure show and I became obsessed with strength training. In early 2009, I abandoned all cardio and starting following DeFranco's Westside for Skinny Bastards program. This is an awesome and simple to follow program that is geared towards gaining strength. It is centered around the "three big lifts", which are squat, bench and deadlift. I gained a ton of strength, lost significant body fat and realized that this style of training is the golden ticket to a nice physique.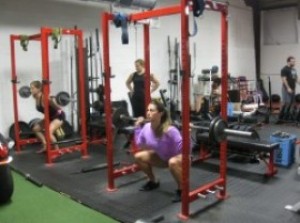 4)   What do you consider to be a couple of the biggest mistakes that females make in regards to their training and nutrition?
Most females make the same big mistakes that I made. They think that cardio will get them their dream body, and they think that they can out-train a poor diet. Neither has an ounce of truth. I feel like the paradigm is slowly starting to shift and women are starting to see that that an ideal physique is created in the weight room… not on the cardio machines or in the classes! In regards to nutrition, women make the mistake of under eating, and it's all of the wrong foods – too many carbs, not enough protein or veggies, and too many processed foods like granola bars and yogurt. If I could offer just two pieces of nutrition advice for women, they would be:
1. Eat whole, unprocessed foods.
2. Eat vegetables with every single meal, no exceptions.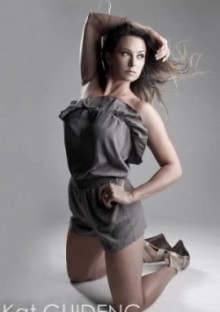 5)   Alright, lets have a little fun…
-What's the one cheat food that you have a hard time saying no to?  And how do you avoid "going there" too often?
I have the world's biggest sweet tooth! My favorite thing in the world is probably carrot cake, with cinnamon rolls coming in a close second. However, I have recently eliminated gluten from my diet, which has caused my new obsession to be chocolate covered nuts. Whole Foods has chocolate covered pecans and they are so good that I dream about them! I never keep foods that are "off limits" in our house so I don't have the option to consume them without planning for it.
-Speaking of food, I know you have a ton of great, healthy recipes.  Care to share one of your favorites with us?
Yes! I'm very passionate about making clean treats to keep people sane while dieting. I also like to create delicious stuff in hopes that people will offer these to their children instead of sugary candy and cookies. I have so many recipes that I love, but I think my favorite is the pumpkin muffins. They are perfect right now for fall and delicious topped with natural peanut butter. They are gluten, dairy and sugar free, and I swear that you'd never know it!
-What is the one exercise that pumps you up the most to perform?
Deadlifts! They are, what I feel to be, the most bang for your buck. They work every muscle in your body and make you stronger overall. If somebody was only going to do one of the three big lifts, I'd highly recommend the deadlift. Something about locking out a heavy deadlift just feels so good and empowering!
-What is the one exercise that you dread to perform – but of course, you do it anyway, right?
Uh oh! Getting called out on this one!

Truthfully, I hate to squat. I always have. Of course I force myself to do it albeit not as often as I probably should, which is why I'm pretty awful at them.
-As you walk onto the stage in a competition you have people in the crowd and all the judges, well, judging you; what area of your body do you feel best about?
My mom has the most beautiful legs I've ever seen and lucky for me she passed her genetics on down. That, paired with the fact that I absolutely hammer my legs twice per week, has blessed me with a set of legs that I'm pretty proud of.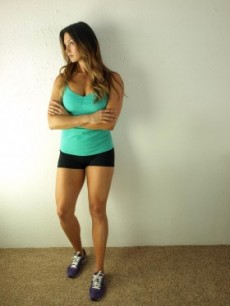 And we all have that one area that just won't cooperate the way want it to.  Yours is?
Without doubt, it's my midsection. My legs and back stay pretty lean, even if my weight swings upwards about 10 pounds, but in order for my abs to be visible, I've got to be around or below 15%  .
6) Switching gears to the performance side of things, what are your current PRs (Personal Records) in the:
-Deadlift – 295 (it just kills me that I didn't go for 300 that day!)
-Bench Press – 145. I've attempted 150 twice over the last 6 months and barely missed it both times. 150 will be mine before this year is over!
(Danny's Note: A few hours after we finished up this interview, Jen sent me an e-mail saying that she hit 15o pounds in the bench press!  Wow, talk about the power of putting a goal in writing – nice job Jen!)
-Squat – 215. I haven't tested my squat max in about a year, so this is from last November.
7) What does your future in the field of fitness look like for you?  Where can the readers find out more about you, Jen?
I have a fitness bucket list that seems to keep growing! There is so much I want to do. I am definitely planning on participating in Tri-Fitness next fall, and I can see myself doing some type of Strongwoman event and/or Powerlifting meet in the interim.
On another similar topic, I've recently teamed up with 6 amazing and strong females to create a women's mastermind strength group called, "Girls Gone Strong". We plan on putting on seminars & workshops, educating women on strength training and building a strong female network and support system. Our website should be up by the beginning of next year.
To find out more about me, you can visit my website www.JenComasKeck.com , where I have all of my recipes, articles and interviews posted. You can also find my daily training log on EliteFTS.com, hear me ramble in 140 characters on Twitter, or find me either at Facebook.com/jencomaskeck or under our female strength fan page which is Facebook.com/GirlsGoneStrong.
Danny's Note – It is GREAT to see females like Jen passing on the message that embracing weight training will not make a girl "too big."  And that when done properly with progressive overload (and a solid nutrition plan), weight training plays a HUGE role in building a healthy and attractive female body!  Girls like Jen have been a big inspiration to some of my young female clients over the years.  Here's a video of my client Coco, lifting 300 pounds in the rack pull…
One less female that we have to worry about becoming a "cardio queen!"

Thanks for the interview, Jen!
For more training, nutrition, and basketball information, you can find Danny on Twitter.