Training and Nutrition Content From Around The 'Net…
I hope everyone is having a great week!  I'm looking forward to the Final 4 this weekend and I'm pumped that the Cubs started the season off with a victory!
If you have a few moments, I have some great reading content for you.  First up…
This is a great, common-sense article on nutrition.  And Brian St. Pierre is one of the "people you should listen to" in this article.  If you've been reading DannyMcLarty.com for sometime now, you know that I'm a huge fan of BSP.  His part alone is worth the price of admission.  Well, it's free, so it's a pretty good price either way.

Anyway, give it a read.
This is a podcast where Dr. Layne Norton and Dr. Jake Wilson talk all things cardio.  Very interesting!  Long story short – steady-state low(er) intensity cardio (like jogging) breaks down muscle tissue more than high intensity cardio (All OUT sprinting/bike sprints, etc).  And lower intensity cardio has an "interference effect" while high intensity cardio does not (interference effect in this case means that it is harder to add muscle while performing lower intensity cardio).  Plus, as we all know, it is MUCH more time-efficient!   Check out the podcast… a lot of great thoughts!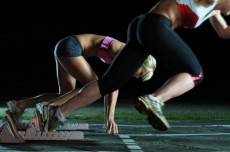 And here is a video of Paityn performing box squats at MVP Training the other day.  Box squats are awesome.  AND, they are great to use as a progression en route to back squats (with no box beneath your butt).
If you're looking to improve your squat, or to simply start adding squats, check out this article that I wrote just over a year ago…
Make sure to pass these articles around to your friends on facebook/twitter/e-mail, etc, as they can definitely help out the majority of fitness enthusiasts out there.
See you soon…