Mid-August Randomness… Daxton's 1st Time Bowling; The "Donut Burger" etc etc…
Here we go…
Daxton's 1st Bowling Experience
Yesterday we celebrated Carson's 12th birthday party at the bowling alley.  A lot of fun!  Here is Daxton's 1st attempt…

Don't Try This At Home (or at the fair)
So I went to the Boone County Fair to support some of my friends/clients that were showing their pigs/cows 'n all that.  Definitely interesting.  Anyway, as I was walking back to the car to head home, I see this sign…
Now, as you know, I'm a pretty healthy dude that also believes in enjoying life and splurging from time to time.  But a donut plus a greasy burger rolled into one sandwich is probably about as bad as it gets.  With that said, I just couldn't pass it up.  If I saw a sign for a six-legged duck, I'd probably have to stop and look just because I may never have that opportunity again… same thing with this donut burger – a once in a lifetime opportunity.  ;)
What they did was cut a glazed donut in half and use it for the top and bottom half of the bun.  I honestly don't remember the last time I ate a donut, let alone combined with a burger.  It turned out to be very tasty, very greasy, and very sticky for my fingers.  It's now crossed off my bucket list, and I can move on in life knowing that I owned that donut burger.

Torn Calf
A few months back I tore my calf while playing basketball. I then considered "retiring" from playing hoops anymore because of the fact that I make my living training others and demonstrating moves/drills while giving basketball lessons.  And getting hurt makes both of those tasks VERY tough! I'm still up in the air as to whether or not I'll join my friends when our b-ball league rolls around next winter.  And when they ask me to play a little pick up hoops here and there, I'm not sure if I'll keep saying no thanks… or will I say, "screw it, I'm in!"
One of the girls that I train in the weight room and on the basketball court, is heading to college in about a week to play basketball.  She's coming off of knee surgery and has not gone up against live competition in months.  So during a portion of our last couple lessons, we've played a little one-on-one and my calf has responded pretty well.  No injuries, BUT I still do feel a little "twinge" as I push off of it.  I don't know how much of it is my head and how much of it is "real."  Injuries are a tricky thing.  Wish me luck in keeping this calf  healthy and help give me the strength to not push it too far and re-injury it!  Please, I need you!

Quads/Squats
Speaking of my calf injury, when I was hobbling around, I couldn't do a whole for my quads (although I still got quite a bit of posterior chain work in … you know, hamstrings and glutes).  But since I've returned to going full force with quad dominant movement again, my quads have responded really well.  I used to think my legs were my weakness, but my quads have actually become one of my more developed body parts.  Unfortunately, I can't say the same thing for my calves.  But, back to the positive…
This last month and a half or so, I've been mostly using 2 quad dominant exercises – Back Squats and Bulgarian Split Squats.  But mainly back squats.  Here's a picture of my current quad development…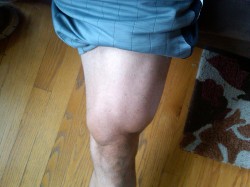 John Alvino posted this on facebook the other day and I shared it.  In case you missed it, here it is again…
Don't be this guy.  Be a man and work your legs!
Ladies, you like it when a guy has nice legs and glutes, right?
What do you think of Daxon's 1st attempt at bowling?  Is he the next Roy Munson?  Or should I just keep him on the basketball courts?
Finally, would you dare try the donut burger?  Or just too frightening for you?