In case you missed "Episode I," CLICK HERE.  I'll include the "introductory video" again today… to get you up to speed…
When it comes to dribbling skills, things are no different than with a quality strength training program.  That is, you must first build a foundation (get brilliant at the basics), before you can even think about getting "all fancy."  It's about working toward making progressions from week-to-week (again, just like you should be aiming to do when in the weight room).
There you have it, handles 101.  Ok young ballers, go get it!
On a side note.  I'll be at Wrigley for Friday's Cubs/Red Sox game!  I can't wait!  I haven't been to Wrigley for years and this will be my first time back at my favorite place on Earth since moving back to Illinois.  And to make it even better, one of my best friends, McKenna, is driving in from Omaha to go to the game with me.  He's a long time Red Sox fan and this will be his first time at Wrigley.  I'm interested to see how he thinks Wrigley Field compares to Fenway Park (or is it Pok?)
Anyway, good times are ahead, and to keep with the theme of brilliant at the basics, we'll definitely keep it simple by starting off with an Old Style and a Chicago Style Hot Dog.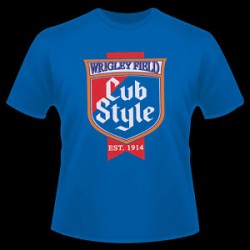 But not to worry y'all… I'll get right back on my usual clean eating/living the next day.  It's about finding that balance… and an Old Style with a dog definitely fits in the plan from time to time!
Have a great rest of your week and a great weekend my friends.  I know I will!