March Madness once again has been outstanding!  We have a couple days of downtown before the craziness starts back up, so I figured now would be a good time to post this.  My good buddy Jeff Rinaldi and I had been texting back and fourth about what to expect out of the Cubs this upcoming season.  In our "conversation" he told me that he has been doing his MLB homework.  I've been extra busy lately, but I decided we should at least get a "rapid fire" preview of this upcoming season.  So let's get to it!
Danny McLarty: Thanks for coming back for another Q & A Jeff!  This time MLB 2011…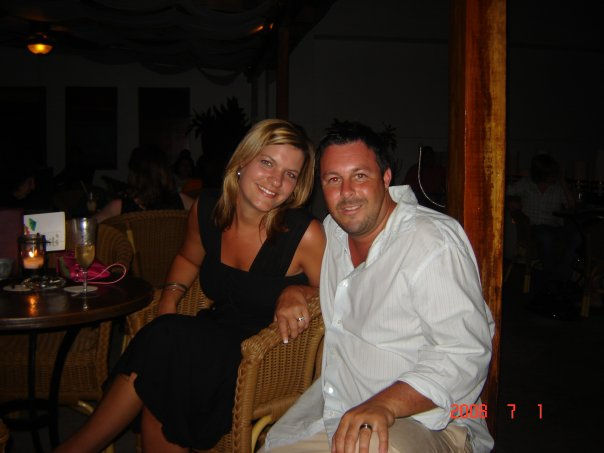 Jeff Rinaldi:  Danny, anything for the "Legend!"  I am leaving for spring training in Phoenix tomorrow. Can't wait to see our Cubs.
DM: You know I have to do it – briefly let me know, do our Cubbies have any chance this year!?!
JR:  I think the Cubbies will be competitive as long as they stay healthy.  I don't see them winning the Central though.  
DM: Let's start in the NL.  Any surprise teams?
JR:  I actually like the Fish as a team to look out for.  The Marlins have good starting pitching with Johnson, Nolasco, Vasquez and Anibal Sanchez.  Combine those young buck hitters and I smell playoffs.  I think they take the Wild card.  Phillies too tough in the NL east.
DM: Who is winning each division, and who do you have as this year's wild card team?
JR:  Phillies, Cardinals, Giants and Marlins in the NL.  
DM: Your NL Cy Young pick?
JR:  Roy "Doc" Halladay again.  Mark it down
DM: And NL MVP?
JR:  I think Matt Holliday shocks some people and wins it.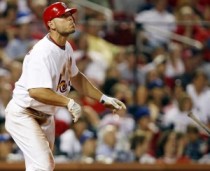 DM: Onto the AL.  Surprise teams?
JR:  I think the Angels are going to be very good this year.  Weaver and Haren anchoring a good staff.  They disappointed last year and they know it.  They win the AL West.
DM: Cy Young?
JR:  I think Jered Weaver edges out Jon Lester to win it.  
DM: AL MVP?
JR:  Carl Crawford in his new uniform
DM: AL division winners and your wild card pick?
JR:  Red Sox, White Sox, Angels, and the Rangers with the Wild card.  Sorry Yankees.
DM: Do you have a breakout player or two, in either/both leagues that become household names this year?
JR:  How about Andrew McCutchen, Starlin Castro and Mike Stanton in the NL.  AL, I think Gordon Beckham rebounds from the soph slump this year
DM: The San Francisco Giants shocked the world last year.  Who do you have going to the 'Series this year, and who takes home the trophy?
JR:  Not going out on a limb on this one.  Red Sox over Phillies.  Both teams are too good on paper.  
DM: Thanks again for another great contribution Jeff!  Any closing thoughts?
JR: Loved giving my predictions D.  Hopefully, they turnout better than my NFL picks.  One final note, I really think Zambrano is going to pitch very well for the Cubs this year.  He was dynamite in the 2nd half last season and I think he felt bad about his antics.  For the critics on Big Z, remember if Soriano or some other Cubs had half the passion Big Z did we'd be a better ball club.  Look for a big year from Z!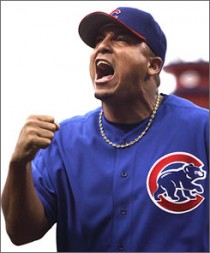 What do you all think?  Do you agree with Jeff's picks?  Any players that will come up big this year and walk away with some of the hardware?  Have another team that you think may take it all this year… besides the obvious – Cubs!

  Let us know what you think.